On this page, you can find more information about the additional benefits that we offer for investing in our crowdfunding campaign.
You will receive the full allocation of equity commensurate with your investment as if these rewards did not exist. In no way are you relinquishing any portion of your equity stake in order to redeem these benefits. Some restrictions on eligibility apply - please see the final section for such restrictions.
Purpose
In order to encourage more investment, demonstrate our technology and platform for investors, build a stronger user base, and spread our vision of democratising finance, we are offering Gold subscriptions and API use for investors who make minimum investments.
As a show of our appreciation for significant capital infusions, we are also offering a stay at our company-owned apartment as well as time at our shared workspace in Malta. This is partially a holiday reward for those eligible, but it is also an excellent way for eligible investors to visit our R&D Centre and meet some of the team working there.
Offered Rewards
For the minimum investment indicated in the top row, we are offering rewards as laid out in the table below: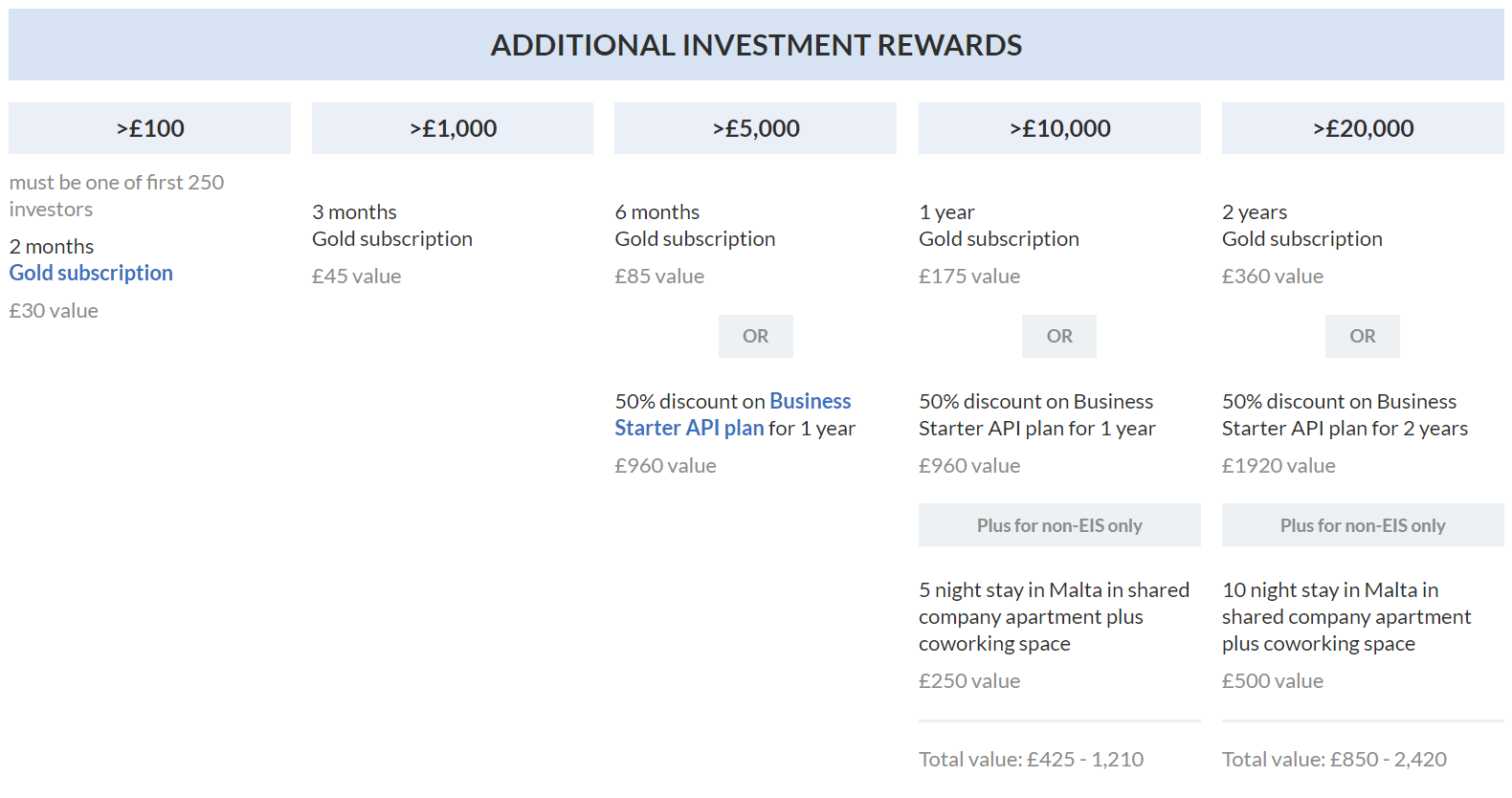 For investments of more than £10,000, we offer both the product discounts and a stay in Malta (see restrictions below). You can choose which product (consumer Gold plan or API subscription) you want and claim the stay in Malta.
The values are based on the market value as advertised on our website, and the stay in Malta values are based on a reasonable nightly rate for the location of the apartment.
The Value of the Gold Plan
Our Gold plan is currently our top tier plan for consumer use, boasting our best analytics, most innovative technologies, and fullest (unrestricted) features. You can see more information about this plan on our pricing page, including what is soon to be released, and the following are the main highlights:
Curated coverage from 13000+ publications in 50+ languages plus Twitter

Full text of paywalled content for select stories from 1000+

Premium publications

A proprietary CityFALCON relevance score for every piece of content

Full access to automated summaries, investor relations content, and other data
Coming Soon
Insights and Advanced Analytics (beyond single-number scoring)

Basic access to our API

All content translated into English
Overview of plans:

Business Starter API
This is our introductory API plan for businesses (above personal plans), and delivers JSON-formatted news from our databases. You can see the various plans we offer on our API pricing page, and the highlights for the Business Starter plan are as follows:


Curated coverage from 13000+ publications in 50+ languages

Calls by ticker or topic

Filters for responses include language, source domain, minimum relevance score, and time period

Content up to 1 month old

100 stories per response and 25k calls per month
Perks of Malta
Malta is a small island nation in the Mediterranean with a mild climate, a drive for supporting the tech sector, and membership in the EU - these are among the reasons we decided to open our R&D Centre in the country. We lease a shared company apartment for guests and occasional visits by employees from other branches.
We also lease a working space nearby. you'll be able to meet the people building the company you just invested in.
A land of beaches, blue waters, mild climates, and ancient and modern cultures: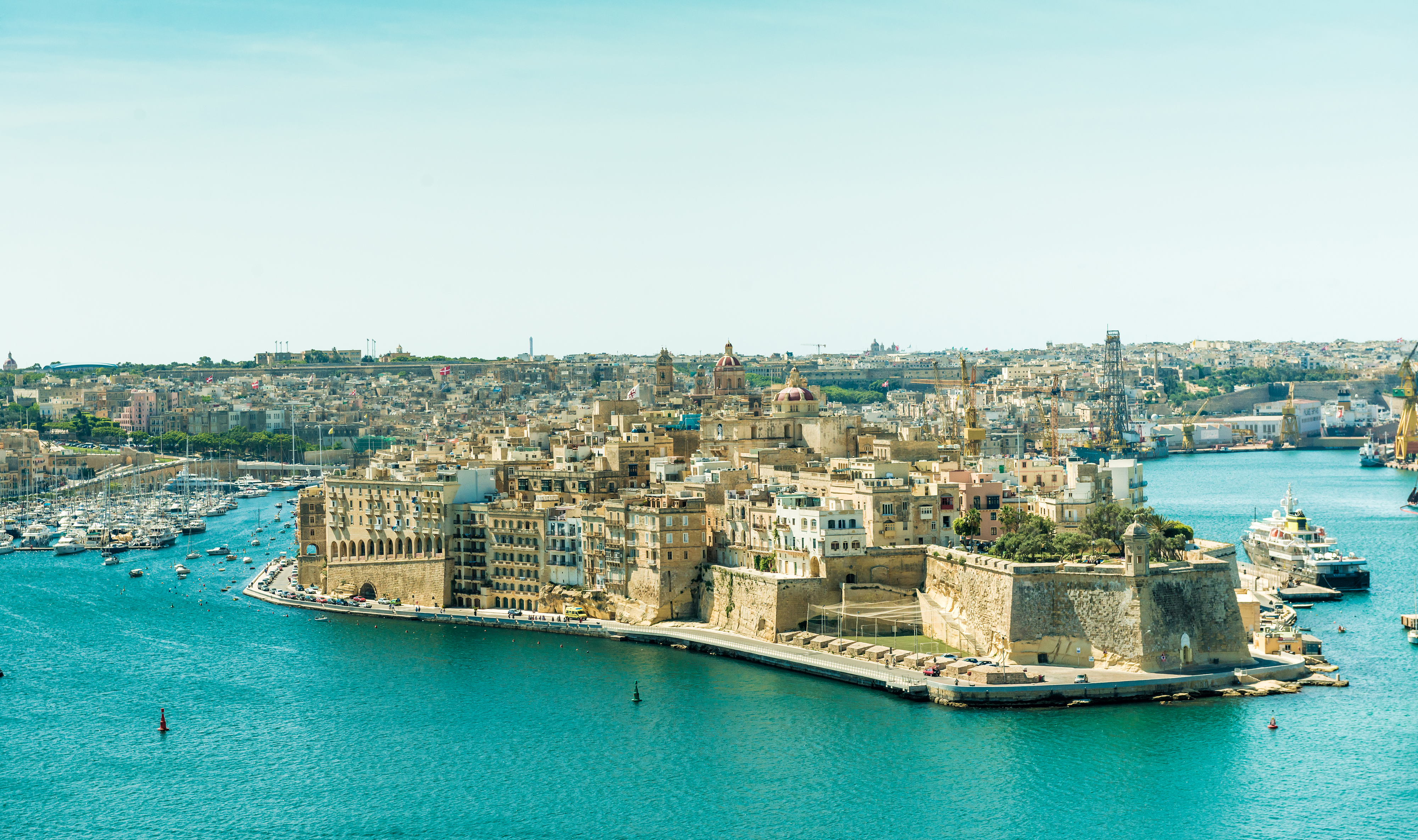 Rules and Restrictions
EIS and non-EIS Investors
The most important restriction applies to investors who wish to consider their investment in CityFALCON as part of the United Kingdom's Enterprise Investment Scheme. Due to quid pro quo regulations, EIS investors cannot claim both EIS and the stay in Malta package. However, all CityFALCON product-based rewards are still open to EIS investors. Investors who will not invoke EIS benefits for their investment will be able to take advantage of the Malta stay.
Signing up to visit our shared apartment and coworking space in Malta
If you will not apply for EIS benefits for your CityFALCON investment, you may choose to visit us in Malta, where we opened our R&D Centre in Summer 2019. We have a shared apartment where you can stay with other guests of the company, and you are invited to visit our coworking space, where you will be able to meet some of the team to familiarise yourself with those you just invested in.
Keep these guidelines in mind when claiming your reward:
Allowed for 2 people. An exception can be made for 4 people if the flat is available

You must book 4 weeks in advance, and space is offered first come, first served

Summer is very popular on the island, and flights and beaches will be more crowded than in winter months

We cannot obtain visas, so please ensure any documentation you need is in order before coming (USA, EU, UK, and many others may enter with visa-upon-arrival for tourist and business purposes)
Rewards do not accumulate and have no cash value
The rewards are not cumulative. For example, if you invest £1500, you cannot receive both a 2 month Gold subscription (£100 tier) and a 3 month Gold subscription (£1000 tier). You qualify only for the perks in the highest tier you meet, not the summation of all the lower tiers, too.
The rewards are not redeemable for cash.
Rewards are subject to change
The Rewards are contingent upon the financial status of the company, and reasonable measures taken by the company to ensure its continuity, including changes in Gold plan features or nullification of the lease for the company apartment, may occur. If CityFALCON is unable to deliver stated Rewards for good-faith reasons, recipients shall not hold the company liable for such losses.