Summary
Due to the crisis in the Ukraine and subsequent devaluation of the Russian Ruble, Yandex is quoting at $18, less than half of its all time-high of $44 in 2014.
The company's position in Russia remains strong with a 59% share of the Russian search market in Q1 2015.
Despite the challenging macroeconomic environment, the company has maintained a good top-line growth and increased its user base and advertisers. However, profitability has been affected.
Long-term investors can look to accumulate the stock at every decline.
There's a risk of a further fall in the stock price if the conflict in Ukraine worsens and/or if the Russian Ruble weakens.
About Yandex (NASDAQ:YNDX)
Yandex is the largest internet company in Russia with a market cap of around $6 billion. According to LiveInternet, as of December 2014, Yandex generated the majority of Internet searches in Russia and also was popular in the Ukraine, Belarus, Kazakhstan and Turkey. The company had 67 million monthly unique users in January 2015.
Limitations of Analysis
This analysis is being carried out based on data that has been gathered from sources that are considered to be reliable, but which may have different metrics. Therefore, the information in this report should be considered informational, and investors should conduct additional research before making any investing decisions.
Impact of Macroeconomic Conditions
The crisis in Ukraine and the resultant depreciation of the Russian Ruble has had a significant adverse impact on several Russian companies, including Yandex. Furthermore, the decline in oil prices has worsened the situation. This has resulted in an increase in any costs which are USD denominated, while at the same time, companies are looking to cut their advertising spend.
Recent Growth
Despite the macroeconomic conditions, Yandex has seen its business continue to grow. In its April 28 Q1 2015 review, the company reported revenue of $211 million, which represented a 13% increase from the same period in 2014. Revenue was in line with estimates, while EPS was much better than estimated by analysts. However, its adjusted net income of $39m was down 12% compared to Q1 2014.
"Despite a challenging macroeconomic environment, we delivered good top-line performance with text-based advertising on our own sites growing 14%. The number of advertisers we serve grew sequentially as businesses continue to respond to the inherent advantages of contextual advertising," said Arkady Volozh, Chief Executive Officer of Yandex. "We will continue to invest in our key technologies and our people in order to deliver superior products to our advertisers and our users".
Other highlights from their Q1 2015 results:
Yandex maintained its strong position in the market with a 59% share of the Russian search market
Search queries on its platform grew by 3% from Q1 2014
Number of advertisers grew to 323,000, up 14% from Q1 2014 and up 2% from Q4 2014
Yandex was selected as the default search provider in Mozilla Firefox in Turkey
The outlook for Q2 2015 is a revenue growth of 9-12% compared to Q2 2014
Yandex's Potential for Growth
Users
The popularity of Yandex is predicated on the fact that the search engine is a Russian domestic company that makes use of the native language. Because of Yandex's popularity, and compatibility with the needs of Russian speaking people, its growth potential is quite large. This is due to the fact that there are more than 250 million Russian speaking people in the world.
Another key factor to consider when calculating Yandex's growth potential is that Russia's Internet penetration rate is only 54%. In an advanced and comparable economy such as the United States, the Internet penetration is 84.2%, while in the UK it is as high as 89.8%. In 2013, Russia had 77.5 million Internet users, and by the end of 2014 it was estimated that the number had grown by about 7% to 82.9 million users. Estimates indicate that Russia's Internet users will grow at a rate of about 3.5% annually, until the total reaches 96.6 million users in 2018. That puts Yandex in the enviable position of being the top Internet company in a market that has a large, untapped population of potential Internet users.
ARPU
Yandex has been trying to increase its average revenue per user by improving its website and offering new features to users. The new offerings include improvements in its search algorithms, along with apps that work with both Apple iOS and Android-driven mobile devices. The service will be offered to high revenue business clients who will help to drive up the average revenue per user numbers.
The chart below shows annualized ARPU of the three top search engines in 2012, which has been calculated by dividing total revenues by the number of users. Google (NASDAQ:GOOG) (NASDAQ:GOOGL) earns more than three times per user compared to Yandex. These numbers clearly portray the potential for expansion for Yandex as it is still in its growth stage.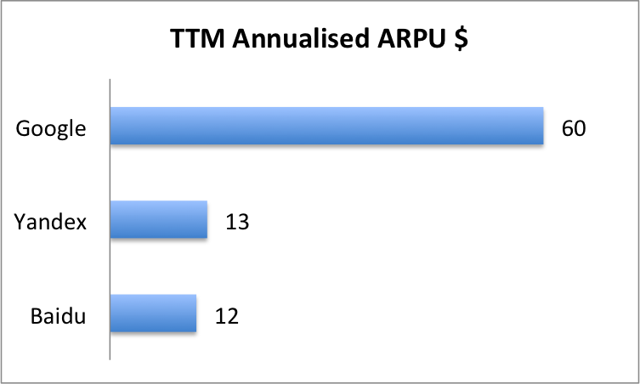 Source: company financials, own analysis
Note: The ARPU numbers are high level and are not adjusted for extraordinary items and non-users related revenue.
Peer Analysis
When it comes to worldwide search engine usage, Google is by far the leader. It dominates world markets with 1.1 billion monthly users and a 67.1% worldwide usage rate. That makes it the leading search engine provider in almost every major country except China and Russia. In China, Baidu (NASDAQ:BIDU) is the leading search engine provider with 440 million unique monthly users. In January 2015, Russia's Yandex was its leading search engine provider, with 67 million monthly unique visitors.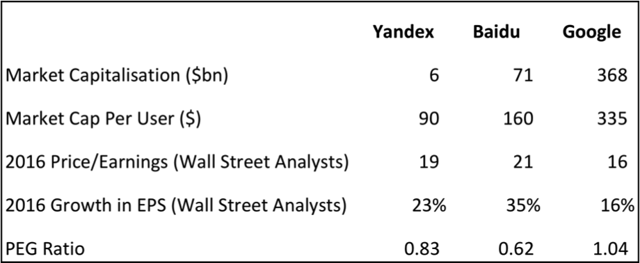 Source: Yahoo Finance, Google Finance
Competition for Market Share
Google does have the resources to compete with Yandex in Russia. In Q1 2015, Yandex's Russian market share was 58.6%, which was down from 61.9% in Q4 2013.
Most of the decrease in market share was due to gains by Google. In November, Google controlled an estimated 31.7% of Russia's search engine market, which represents a healthy 5.3% increase from a year earlier when it controlled just 26.4%. Google also could expand its share of the Russian search market in the future as more Russians take advantage of the power of the Internet to learn English and shift away from Yandex to its English-based search engine.
Yandex files a Complaint against Google
In what appeared to be an attempt to slow down Google's market advances, Yandex filed a complaint against the search engine giant on February 18th. In the complaint, Yandex stated that it believed Google was unfairly forcing manufacturers of Android mobile devices to install Google as their default search engine setting. Google, of course, develops and owns the Android operating system.
In the complaint, Yandex stated: "We believe that device manufacturers should have a choice as to which search provider to set as the default or which services to have pre-installed on the device … We are talking about the need to unbundle Google's Android operating system from Google Search and its other end-user services." The Russian Federal Anti-monopoly Service said that it had received the review, and that it could take as much as 30 days to review it.
Similar complaints have been filed with the European Union, and it is already looking into the matter. It is likely that Google will defend itself by arguing that manufacturers can load other services if they, "choose not to pre-load its software," or that "customers have always been free to carry out searches via other software."
Stock Price Performance
Russian ADRs are trading near to their lowest levels since 2008. Yandex is quoting at $18, less than half of it's all time-high of $44 in 2014.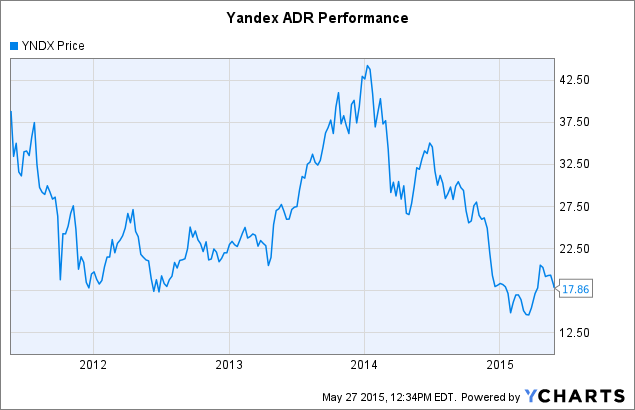 YNDX data by YCharts
In Conclusion
At the price of $18, the stock is quoting at a 2016 P/E of 19 and a PEG ratio of 0.83.
Investors are reluctant to buy Russian stocks due to a combination of a Russian recession, the low cost of oil, United States and European economic sanctions and the crumbling price of the Ruble.
However, the company has done well in tough economic and political conditions, and has huge growth potential as more and more Russian speakers gain access to the internet. Recovery in the Russian Ruble and oil prices could get the company back to growth in profitability.
I'm looking to accumulate Yandex on every decline for a two to three year horizon.
Disclosure:The author is long YNDX.
The author wrote this article themselves, and it expresses their own opinions. The author is not receiving compensation for it. The author has no business relationship with any company whose stock is mentioned in this article.